Local Grant Program
Local Grant Program
The California Department of Transportation (Caltrans) developed the Clean California Local Grant Program as part of a two-year program through which approximately $296 million in funds will go to local communities to beautify and improve local streets and roads, tribal lands, parks, pathways, and transit centers to clean and enhance public spaces. Through the combination of adding beautification measures and art in public spaces along with the removal of litter and debris, this effort will enhance communities and improve spaces for walking and recreation.
View the Clean California Local Grant Program Factsheet (PDF) for more information.
Guidelines and Application Documents
Stakeholders are invited to participate in two application workshops designed to provide technical assistance to potential applicants.
Learn more about the Clean California Local Grants Program Guidelines and Application Documents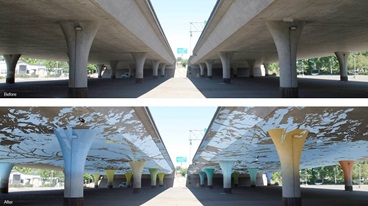 Intent
Through this $296 million Clean California Local Grant Program, Caltrans anticipates supporting more than 200 local projects to invigorate and brighten communities across the state.
Goals
The Clean CA Local Grant Program is to achieve the following goals:
Reduce the amount of waste and debris within public rights-of-way, pathways, parks, transit centers, and other public spaces.
Enhance, rehabilitate, restore, or install measures to beautify and improve public spaces and mitigate the urban heat island effect.
Enhance public health, cultural connection, and community placemaking by improving public spaces for walking and recreation.
Advance equity for underserved communities.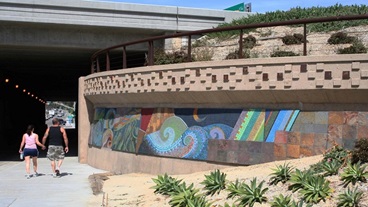 Funding
Recognizing the diverse funding needs and abilities of local agencies across the state, the Clean California Local Grant Program guidelines are being developed with a framework that does not apply a one-size fits all approach. The local match component will range from 0% to 50% of the project costs and will be based on the capacity of the community to leverage local capital. Additionally, with an eye on equity, half of the overall program funds will benefit or be located in underserved communities. The maximum project amount is $5 million.
Selection
As part of the effort, Caltrans developed project selection criteria that incorporates:
Need for the project
Potential to enhance and beautify public space
Potential for greening to provide shade, reduce the urban heat island effect, and utilize native low-water plants
Potential for abatement of litter and debris that improves access to use of public space
Local public engagement process that culminated in the project proposal and reflects community priorities
Benefit to underserved communities