Get Involved
Get Involved

Thank you for taking the Clean Water California Pledge. Download your badge and share on social to help spread the word.
Keeping California clean is a collaborative effort and requires everyone's help. Do your part by following a few tips, adjusting your routine, getting involved in a local clean-up, sharing your knowledge with others or by following us on social media.
Community Clean Ups
Help clean up your community and check out these events!
First Annual California State Parks Week
The public is invited to celebrate the first annual California State Parks Week, June 14-18, presented by California State Parks, Save the Redwoods League, Parks California and the California State Parks Foundation.
Land Acknowledgement Day - Jun 14, 2022
Kids Career Day - Jun 15, 2022
Health and Wellness Day - Jun 16, 2022
Stewardship Day - Jun 17, 2022
Partnership Day / Volunteer Day - Jun 18, 2022
Clean Up Event Summaries
American River Parkway Clean Up Event on Friday, April 22
Caltrans Stormwater partnered with the American River Parkway to collect over 2,000 pounds of trash with the help of over 60 volunteers. The most interesting items discovered included a sink and a loveseat from a vehicle.
Huntington State Beach Clean Up Event on Saturday, May 14
The Caltrans Stormwater Program organized a cleanup event at Huntington State Beach. Over 400 volunteers attended, picking up 145 pounds of trash across the beach.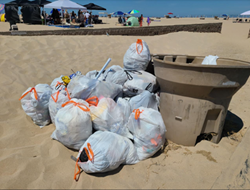 American River Parkway on Saturday, May 21
The Caltrans Stormwater Program sponsored a cleanup on May 21 at American River Parkway. 29 volunteers attended picking up a total of 350 pounds of trash.
Join the Conversation
Join us and follow and engage with our social media channels.
Help us spread the message. Use our Toolkit.
Jobs
Interested in a career that can put money in your pocket AND help beautify California? Check out some of the jobs available in your district. Apply through CalCareers.